The amalgamation of two or more companies poses special concerns for secured parties.  In British Columbia, when two companies are amalgamated they effectively continue to form one amalgamated company.  For the purposes of this article we will call the new company "Amalco" and we will call the two amalgamated companies the "amalgamating companies" and each is an "amalgamating company".
Amalco is a continuation of the amalgamating companies and not a new company.  It owns all the property, rights and interests of each of the amalgamating companies and is subject to all the debts, liabilities and obligations of each of its amalgamating companies.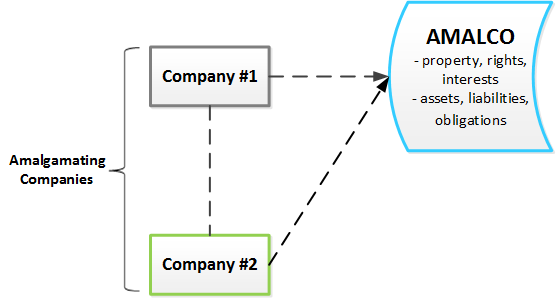 We are often asked by secured parties what is the consequence of an amalgamation on security granted by one or both of the amalgamating companies. Below is a list of some commonly asked questions and their answers.
1.    Does security granted by an amalgamating company continue to charge the assets of Amalco?
Yes, subject to some limitations. It is clear that security granted by an amalgamating company remains in effect to charge assets that can be identified as belonging to that company and securing non-revolving loans; for example, a mortgage over land or a security interest in a specific piece of personal property securing a term loan or a non-revolving demand loan. However, there is some dispute as to whether security granted by an amalgamating company will charge assets acquired by Amalco after the amalgamation or will charge assets brought from the other amalgamating company. There is also some dispute as to whether the security granted by an amalgamating company will secure advances which had been made to another amalgamating company or new advances and re-advances (under existing facilities) made to Amalco. Steps will also need to be taken by the secured party to maintain perfection under the Personal Property Security Act in British Columbia or in other jurisdictions where their security interest is registered.
2.    If different amalgamating companies have given similar security to different secured parties, will be there priority issues which must be dealt with prior to the amalgamation?
Yes, there will likely be priority issues and these should be addressed prior to amalgamation.  With that said, each secured party will likely have priority for the assets which can be identified as belonging to the amalgamating company from which that secured party has a security interest (note that perfection steps may need to be taken), but priorities are unclear where there are assets which cannot be so clearly identified or which become comingled on amalgamation.
It is possible that priority will be determined by order of registration or perfection in the same way as the priorities between security interests granted by each amalgamating company are determined – subject to any specific rules granting priority to one or the other, such as the rules relating to purchase money security interests.
For these reasons, where there are competing secured parties, those secured parties should not consent to the amalgamation or make any further advances to Amalco until they have resolved the priority issues among themselves and ensured continued perfection of their security.
3.    What should a secured party do to protect itself and its security when its debtors amalgamate?
A secured party can eliminate any uncertainty about its security by (a) taking new security from Amalco or by (b) taking a confirmation agreement from Amalco with respect to that security, and (c) obtaining the necessary agreement with other secured parties having competing priority claims.
New Security.  Taking new security from Amalco removes any doubt as to whether Amalco has authorized the existing security.  It also may provide an opportunity to revisit the security package in general.  With that said, a secured party should be cognizant of how taking new security will affect its old security vis-à-vis other secured parties with security from the amalgamating companies and Amalco.
Confirmation Agreement.  The confirmation agreement should restate the charging provisions of the existing security (as granted by the amalgamating companies) and confirm that the existing security secures payment of existing advances to the amalgamating companies and all future advances to Amalco.
The difficulty with taking new security or a confirmation agreement is that some debtors will resist having to spend time and money doing so when their own counsel may tell them it is unnecessary.  They may be right – however, if they are right, there is no downside to giving new security or a confirmation agreement (except in costs).  But if they are wrong, not taking new security or a confirmation agreement will almost certainly hurt the secured party.
4.    Will security held by a secured party from Amalco have priority over unsecured lenders of the amalgamating companies?
Yes, provided the amalgamation is for a real corporate purpose and not merely to improve one secured party's position over another.
5.    Is a secured party's consent required prior to the amalgamation?
Although consent by a secured party to a proposed amalgamation in not always required by law in British Columbia, it will usually be required by the facility agreements the amalgamating companies have signed with the secured party (e.g. commitment letter, mortgage, general security agreement).  With such an agreement in place, an amalgamation is almost certainly going to be an event of default unless the secured party expressly consents.  Any consent given by a secured party in these cases should be subject to the following conditions:
a.    the amalgamation must be for a legitimate corporate purpose and not to prefer a creditor;
b.    each of the amalgamating companies should agree with the secured party:
i.    that the security granted by each of the amalgamating companies continues in full force and effect and is binding on Amalco; and
ii.    to cause Amalco to execute and deliver to the secured party, immediately upon request by the secured party either a confirmation agreement of, or replacement security for, the old security, all in form and content satisfactory to the secured party;
 c.    the amalgamation must not cause a default under any material contract to which any of the amalgamating companies is a party unless this default can be waived by the secured party;
d.    all secured parties to the amalgamating companies must enter into appropriate priority agreements satisfactory to the secured party in its sole discretion; and
e.    each guarantor of the debts of an amalgamating company to the secured party must consent to the amalgamation and confirm the guarantee with respect to the indebtedness of Amalco, including the indebtedness of any other amalgamating companies to which Amalco is subject.
In Conclusion
As is evident from above there are many complexities that arise upon the amalgamation of two companies.  Prior to consenting to an amalgamation a secured party needs to conduct a detailed analysis of its security package with a particular amalgamating company as well as conduct sufficient due diligence on the other amalgamating company to ensure that there are no competing interests or secured parties that may adversely affect its security upon amalgamation.